Emmy and Grammy award-winning composer Laura Karpman is a true 21st century composer. She has combined imagination and prodigious musical talent with progressive use of technology to achieve an impressive, eclectic resumé spanning film, television, videogames, concert and theatre scoring. Equally at home in front of a DAW or a Steinway, Karpman relishes a musical challenge and approaches all her projects with an awe-inspiring passion and creativity - whether it's a PlayStation game, a cutting-edge documentary, or a multimedia opera. Having embraced technology as a fundamental part of composition and even converted her beachfront home into a "total studio" to accommodate it, Karpman rates Video Slave as one of her ultimate pieces of gear: she explained to us recently how it has revolutionised her workflow.
A seamless blend of tech and tradition
Karpman's passion for music revealed itself early – she began composing at just seven years old, and at 11 discovered a love of jazz, memorising Ella Fitzgerald's scat solos. After her teenage years playing in high school bands and attending music camps, Laura studied at the University of Michigan School of Music then bagged her Masters and Doctoral degrees at Juilliard whilst moonlighting on the Manhattan jazz scene. Undertaking a fellowship at the Sundance Institute's Composer's Lab she encountered for the first time the use of computers in composition, and was hooked. She now executes a seamless blend of the latest technology combined with traditional instrumentation including her beloved Steinway piano, her writing style shifting effortlessly between the two depending on the needs of her eclectic projects.
"My approach really depends on what I'm working on and what stage of the process I'm at," she explains. "Generally, if I'm working out thematic stuff - big picture stuff - I'll go to my piano. I have a beautiful Steinway which is right next to my computer rig. I'll go there and work out a theme, literally notating it on paper - old school! What's nice about that is not only do I have that interaction with the piano, but the work actually exists in a book. All my sketches wind up in this book and it becomes a nice document to keep. Musically, it's easier for me to work something out in a major way at the piano, writing it." With her musical background Karpman does love working with real instruments: "I have a rich collection of instruments, everyone in the house can pick something up, depending on what the score needs and what's lying around the house. I record with all sorts of musicians, everything from a single guitar to string quartet to orchestra to brass, every imaginable variation of whatever is needed for any particular project."
At other times, however, her workflow is thoroughly grounded in the digital: "When I'm working cue to cue I do work at the computer; I'll work out those pieces of the puzzle there. And certain kinds of music - if it's based in loops or technology or that kind of stuff - that's at the computer. I feel very creative at the computer too." In fact, in many ways, she admits, composition at the computer seems more natural to her: "Technology has become so much part of my flow that for me it feels really organic. It feels like I'm returning to my childhood, because I started writing music when I was a little kid, and something about sitting at the keyboard and creating on screen without writing things down reminds me of the way I worked when I was little."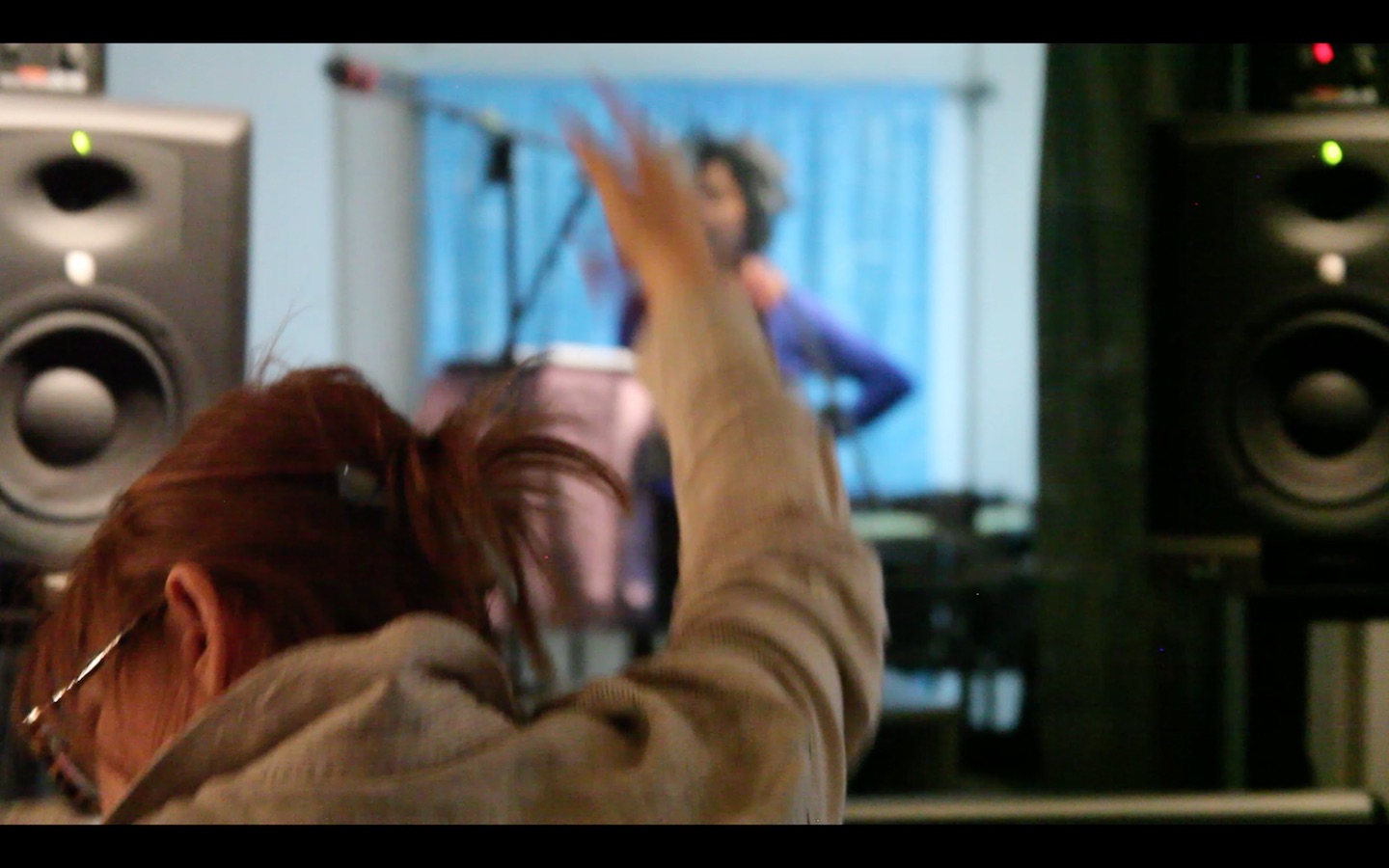 An ideal space for creating
Whether immersed in the real or the virtual, most crucial to Karpman's workflow is having the right workspace to inspire her creativity: "Having the right chair, the right keyboard with the right action - having an artistic workspace is very important."
It's not just about what machines or instruments she has around her, it's almost like her workspace is an extension of who she is: "I have a beautiful duplex on the beach, with the downstairs completely renovated into a total studio space. We worked out which bits of the space we [Karpman and her partner Nora Kroll-Rosenbaum, herself a Grammy award-winning composer] were using for living and what for working, considering where we draw those differentiations. The result is a wonderful morphable space, which easily transmutes from workspace to living space to art space. It also incorporates an incredible view of the Pacific Ocean. It's an absolutely ideal space for creating."
Paradise is having a challenge
This idyllic-sounding setting has certainly inspired creativity, pushing Karpman to transcend musical genres scoring projects as eclectic as the acclaimed TV series Underworld, video games for PlayStation, Warner Brothers and Dreamworks, dozens of independent feature films and documentary pictures, and a multimedia opera, Ask Your Mama, commissioned by Carnegie Hall.
The multi-talented musician sees no issue in embracing such varied genres, claiming she doesn't have a particular 'favourite', approaching all projects with equal passion so long as they represent a creative challenge: "I don't feel I change who I am when going from concert music to film to television to gaming to theatre. It's not like I change my personality; I approach every project with the same musical sensibilities. Every project obviously has its own technical differences – different timings, budgets, the client might have some weird thing like they hate the oboe or love the flute; you're always navigating all of those things when you're working in a collaborative environment. And obviously doing games there are technical differences as you're not dealing with dialogue etc. But I don't feel like one kind of scoring is so different to another. My favourite things to work on are things where you're working with smart people who love music and who want a certain level of intensity musically.
Yesterday I had to write a song commissioned by the New York Festival of Song, a concert music song; whereas three weeks ago I wrote a song with Rita Wilson for a film that she's acting in, and that was a gas! I'm not normally a pop song writer so I had to get my head around that. The thing I love the most about this is, however many years I've done it, I'm still being challenged. That's paradise, for me, when I have a challenge. Musically, intellectually; that's when I'm happiest."
Faced with a musical challenge, it's no surprise that Karpman turns to her most trusted software. She's a diehard Pro Tools user - "I switched over to Pro Tools about ten years ago when they got notation in it, and I've got very used to their plug-ins, they're just a part of my toolbox. No DAW is perfect, but it works for me, I'm very fluid in it at this point."
The nature of her work means she really values the efficiency and fluency Pro Tools offers: "The nice thing about it is you're not in another DAW where you have to then import it into Pro Tools to deliver it; it's just one motion and I like the efficiency of that. It's just easier to keep the fluency going. Because of the way I record too; often I'll record as part of a composition and I'm constantly demo-ing with musicians, so having Pro Tools in there and having no differentiation between MIDI and audio – they appear in the same place and function in the same way - that works so well for me. I know other DAWS do that as well, but I'm comfortable with Pro Tools!"
Video Slave: a home run
However, it's when you get Karpman talking about Video Slave that her enthusiasm really fires. She and Kroll-Rosenbaum are absolutely passionate about the difference it has made to their workflow.
Kroll-Rosenbaum joins our conversation, unable to hold back from raving: "Video Slave has been fabulous for our studio. First of all, we've been able to turn off the video engine within Pro Tools, which is an amazing space saver! Laura's palettes are really massive - even when working with small ensembles she has a huge track count – we've a machine room and lots of gear running all the time so anywhere that we can save a little brain power from a machine perspective is really appreciated. The other wonderful thing about Video Slave is that we're running it on Mac Minis and it really consistently works. Also, critically for us, it accepts any codecs, so we're no longer having to convert. Working on independent films you often get all kinds of deliverables, so the fact that Video Slave has such a huge range of codecs is invaluable. Also, the ability to A-B the time code coming out of Video Slave with Pro Tools, and with the time code window bar that we're receiving from edit rooms – all of that has solidified our process. Laura is often working on multiple projects at once and it's made it easy, easy, easy." Karpman agrees; she has found Video Slave truly liberating: "It's thrilling being able to use any codec. It means we don't even have to think when people say 'what are your deliverables?' Especially with independent films, it's a home run being able to get anything from anyone and work with it immediately. "Also, it sits in the background – it can go away! If I'm working on a project where I don't want to see it, it's not always there. It's nice aesthetically for our workflow to have it function it the background and be able to emerge and submerge when we need it to."
Scrubbing and security
Introduced to Video Slave by a friend, Karpman and Kroll-Rosenbaum quickly found that this was a video engine with a crucial difference: it's scrubbing feature. Other video engines they'd tried in the past were unable to scrub convincingly, so the discovery of Video Slave was a revelation: "Everything we do is about being able to hit picture and be incredibly accurate with sync," says Kroll-Rosenbaum. "The fact that Video Slave can scrub, so that we can go frame-to-frame in Pro Tools and Video Slave will clock it – that's massive, that's the reason we could work with this one.
"The sheer fact we can put Video Slave on another machine then run it locally and have it slave to a Pro Tools rig or any other rig in the studio; it's really rock solid. That scrubbing feature has been key to our flow."
They also really value the security aspect: "Some of the larger studio projects have very specific security protocols," Karpman explains, "to prevent films being stolen over the internet. What we appreciate about Video Slave is that we can keep everything protected. We can put Video Slave on another machine that has nothing on it and turn off the internet, and the content is totally protected." So, scrubbing and security have been massive game-changers for Karpman in converting to Video Slave. But it's also been about the usability of the program; how easy it is to get to grips with and how much smoother it makes your workflow: "The ability to use multiple versions of a project but have them all within one session so that you can refer back to an earlier cut or a later cut is fantastic. It's all really beautifully designed within the program."
Which is exactly what Karpman would say in urging fellow composers or engineers to give Video Slave a go: "Try it out – it's easy! It's transparent, it's fluid, it's easy to figure out. The first time I had to figure it out it took me probably like three seconds! It was really, really easy. It's one of those tools that anybody working on projects at any level will enjoy - just a beautifully-made product. We're using it on all of our rigs now, and it's solid. We love it, it's one of those really smart and well-done products. It's a clean, clear program, and we have way fewer crashes and way fewer delays waiting for video engine issues. We're really thrilled with it."
You get the impression Video Slave will be assisting Karpman on many more of her musical challenges to come.