Exporting Movies
Video Slave can not only playback movies in a variety of formats, it can also export them. Exporting movies directly from Video Slave can be very handy in various scenarios. You can use it in combination with Video Slave's ability to playback audio files to create quick drafts for other departments or the director to evaluate for example. Or you could create movies with rendered timecode overlays and visual events to send to a recording stage. These are just two examples of what you could do with the new feature.
File -> Export... -> Active Timeline. As the name implies, Video Slave will always export the currently loaded timeline. The following window will be displayed: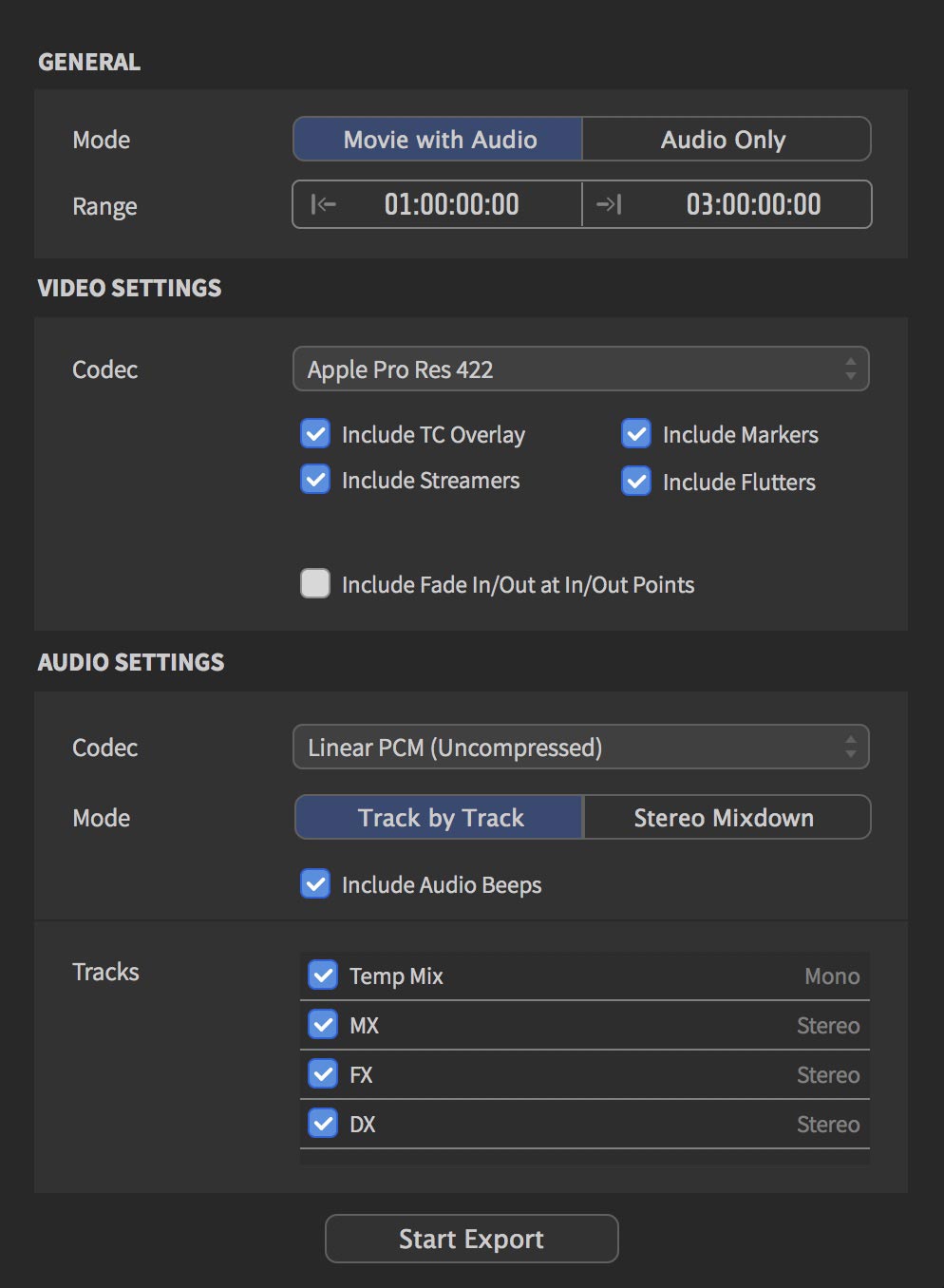 General

Mode
Choose if you want to export the timeline including the selected audio tracks or if you want to export the audio tracks only.
Range
Select the timecode range you want to export. By default, this is the start and end timecode of your timeline. Please be careful to set the range correctly to not accidentally export hourlong videos. The best way to get the correct in and out point of the timeline is to set the in and out point using the respective menu items from the Transport menu. If they are set, they will be set as default when the export window is opened.

Video

Video Codec
Choose your desired video codec here. Currently, H.264 and Pro Res LT/Standard/HQ are available.
Overlays
Use the checkboxes to select which overlays/visual events you want to have included in the export.
Include Fade In/Out and In/Out Points
When In and Out Points are set, you can have optional fades from and to black at the in/out points respectively. The application preferences lets you select the duration of the fades. 

Audio

Codec
Choose your desired audio codec here. Pick either PCM or AAC.
Mode
Choose if you want to have all selected audio tracks in the output movie as separate tracks or if you rather want a stereo mixdown. The latter is recommended when creating review versions for e.g. directors as not all media players can handle multiple audio tracks well. 
Include Audio Beeps
By default, Video Slave plays audio beeps during the streamer of ADR cue events and during streamer events. You can choose if you want to have the audio beeps included in the export using this checkbox.
Tracks
Select all the tracks you want to be included in the export
When clicking the "Start Export" button, Video Slave will ask you for your desired output path and start the export showing you a progress indicator and an estimated remaining export duration.