Annual & monthly subscription activation
Introduction
ADR Master only uses Non Lethal Application's own software protection platform for monthly or annual subscriptions.
PACE iLok License Manager will not work with monthly or annual subscriptions. So you cannot store any subscriptions on an iLok.
Activating a Subscription License
When signing up for a subscription, you will receive a serial number via email after your purchase - which can be used to activate ADR Master directly. Additional tools like iLok License Manager are not required.
When launching ADR Master with no perpetual license present, the ADR Master Activation window will be presented. Click the Enter Serial Number button & enter the serial number.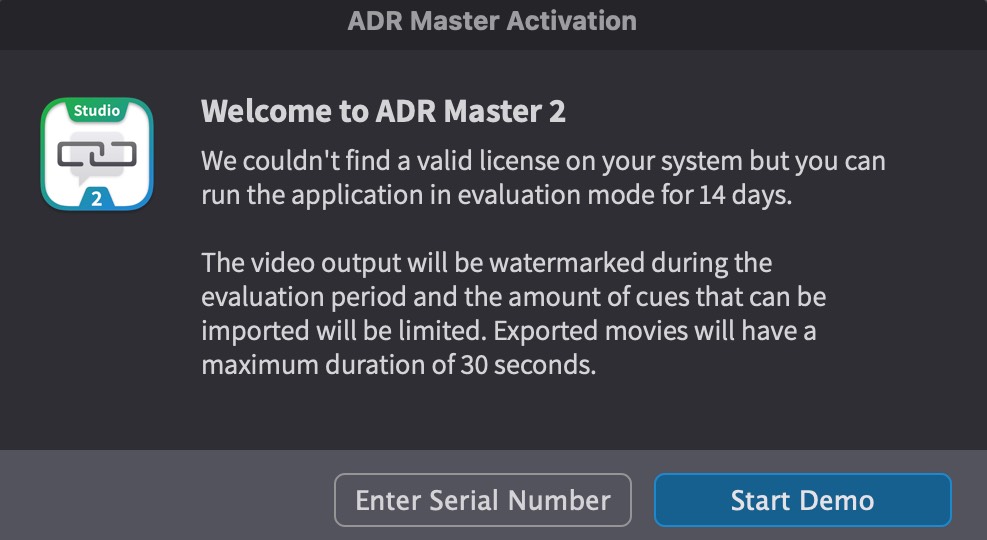 It is recommended to use Copy & Paste to avoid typos.
Click Activate to start the license activation procedure.
This step will require an active internet connection.
The subscription license will need to be refreshed at least once per month. For this, an internet connection is required. If no connection is present, the license will expire and ADR Master will return to demo mode.
Please be aware that each subscription license is only valid for one machine at a time.
Moving a Subscription License to another Computer
To move a license to another computer, first use the Revoke button in the Licenses window (accessible through ADR Master > Licenses) on the computer with the license currently activated. Then, activate the license on another computer following the instructions above.
If a license is regularly moved between two computers, to speed up the activation process, the last used serial number is remembered by default.
Cancelling a Subscription
Both month-to-month & annual subscriptions are offered. Both of these options require monthly payments.
Month-to-month subscriptions have a slightly higher monthly fee compared to subscriptions with annual commitment but they come with a short term commitment and can essentially be cancelled any time. Annual subscriptions on the other hand can only be cancelled at the end of the subscription year.
In both cases you can mark subscriptions to be cancelled at the next possible date through our website.
To do so, log in with your credential in My Account. The My Licenses page will be shown.
Find your subscription license in the license list and look for the button labeled Cancel subscription

When clicked you will be asked to confirm the cancellation. Then, the page will be reloaded and the My Licenses page will show the effective cancellation date.