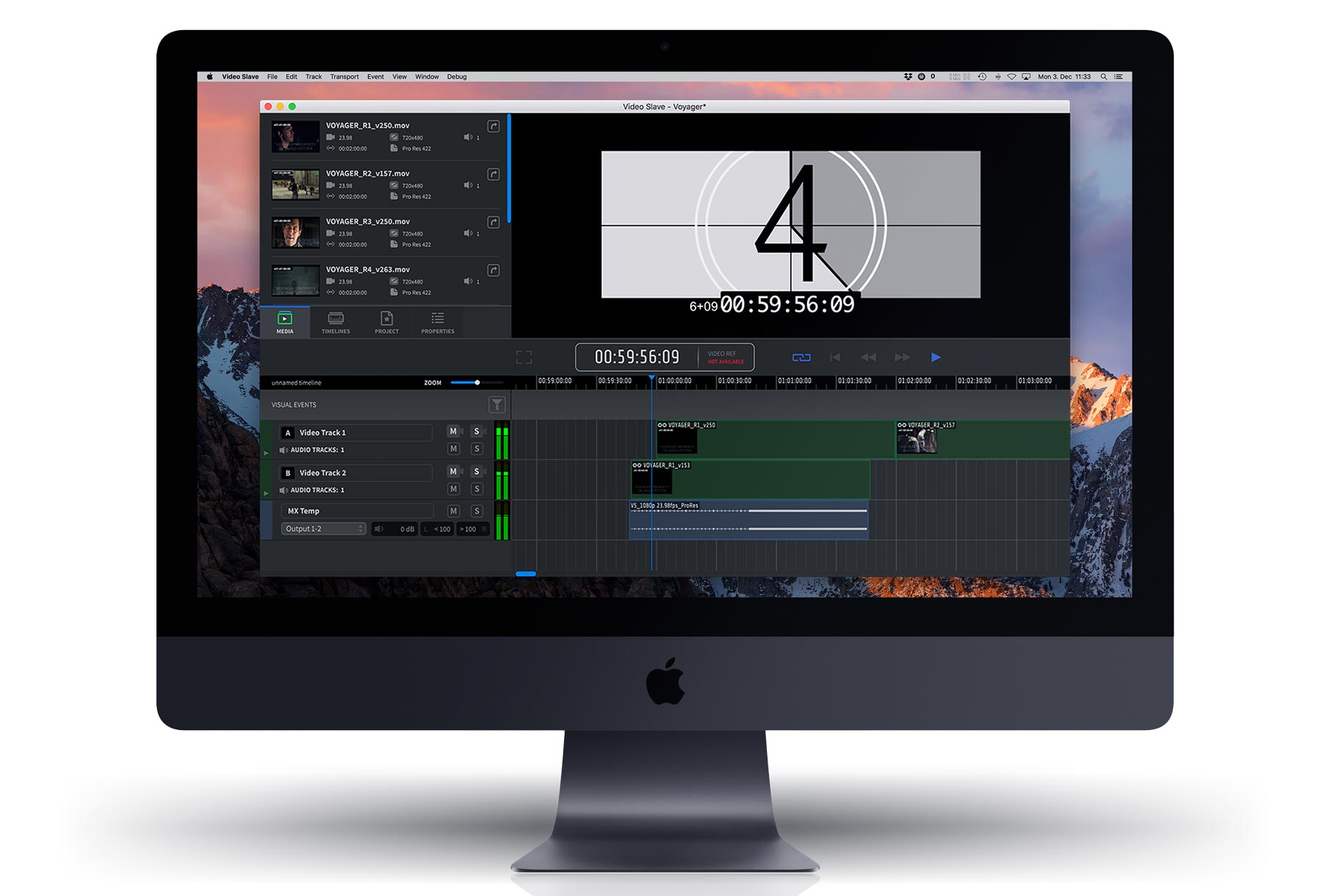 Stop worrying about video playback and get back to focussing on your actual work! Video Slave is here to do the heavy lifting with video for you. With support for a wide range of video formats as well as for video output devices, it is your perfect companion and belongs in every sound engineer's toolbox. Over the last years, Video Slave was established as the industry standard for synchronized video playback and is used by hundreds of professionals around the globe on a daily basis. Download your demo today to see for yourself how it can improve and speed up your workflow!
Download Video Slave
We would love to stay in touch!
Please take a moment to signup for our newsletter.*
* Signup is optional and not required for downloading the software.
Main Features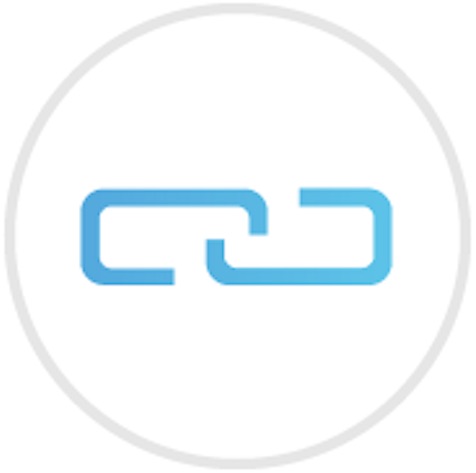 Synchronized Playback - Simple and Powerful
Video Slave offers seamless playback of movies in sync to MIDI Timecode. It works with all major DAWs including Pro Tools, Logic Pro X, Nuendo, Cubase and Studio One - or any other device that can generate timecode as a source.
Video Slave's sync engine provides stunningly fast locking times and tight sync guaranteed: in many cases, it's better than using the video engine built into your DAW.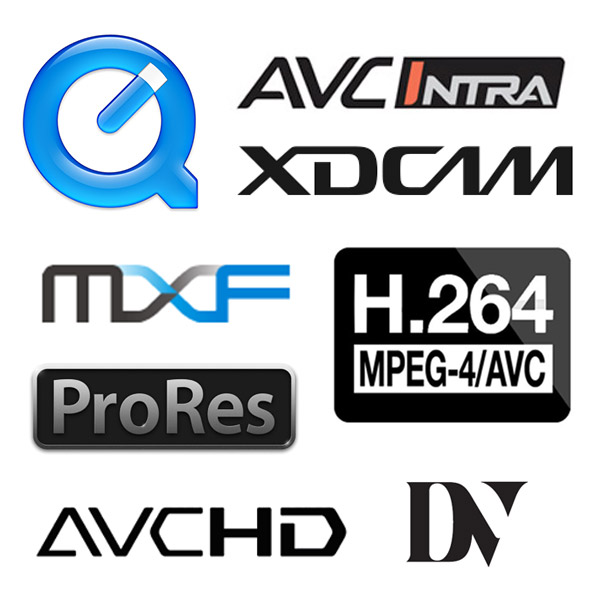 Playback Engine with GPU-supported Rendering
Leverage the power of Video Slave to playback all today's commonly used codecs including Pro Res, H.264, and AVC Intra. The supported container types include QuickTime, MXF and others.
Stop wasting time transcoding movie clips to a format preferred by your DAW. Simply drop the video clip into Video Slave, and it does the rest.
Video Slave 4 gives exceptional video playback, and saves you valuable time.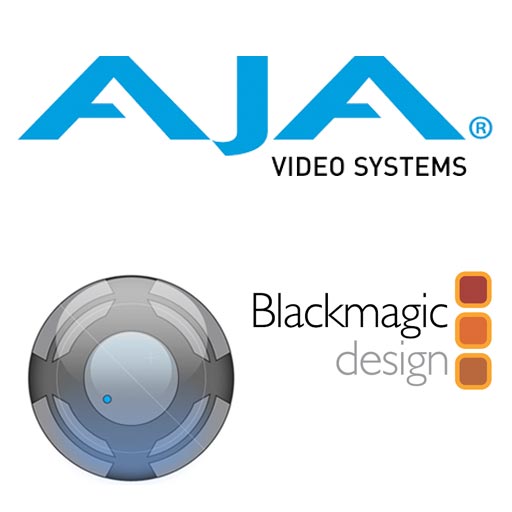 Video Device Support with Unrivaled Flexibility
Don't be tied to simple playback through your computer monitor. Video Slave supports a wide range of video hardware devices from Blackmagic Design and AJA. It also supports the Syphon framework which allows you to share video frames with other applications easily.
Video Slave will present the video on all attached devices as well as the inbuilt player view at the same time and will ensure that all the displays are in perfect sync. And if you're using a projector, Video Slave offers a handy projection delay compensation.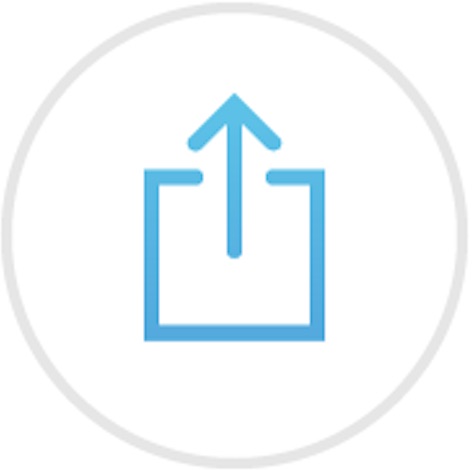 Customizable Movie Export
An essential part of any workflow is the ability to export movies for different scenarios. Ever needed to export a movie with an added piece of music for the director? Or export a video with your programmed visual cues to send to the scoring stage?
Now you can with Video Slave's flexible movie exporting features. Video Slave 4 offers you the flexibility to select output options of video and audio codec, include or remove audio tracks, and export range.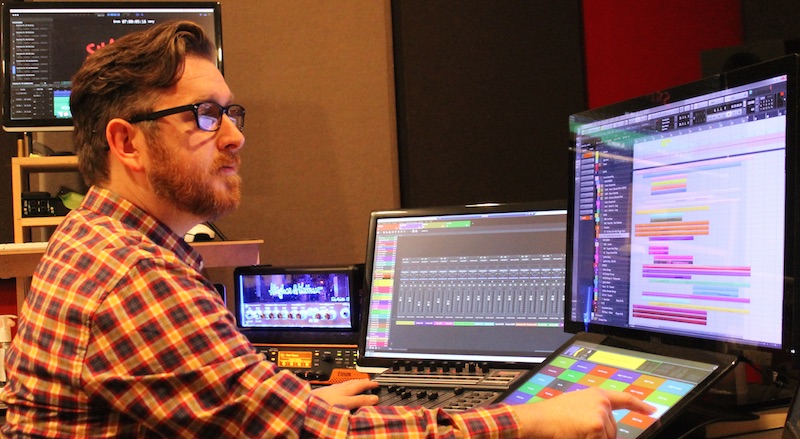 I think there are certain things that just make sense, and end up becoming the industry standard. [...] Video Slave is kind of the same thing for me; I personally think it's going to be a must-have if you're working to video. Especially with all the different file formats and video encoding; all the different variables that can happen."
Christopher Doucet
Composer for film and TV
Read Chris' full story
Other Features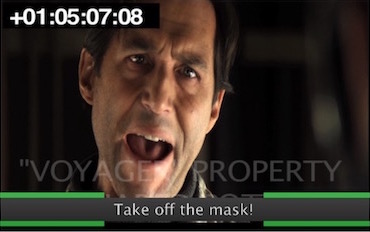 Overlays to transform your daily work
Video Slave provides flexible overlays, enabling the superimposition of all types of visual cues over the picture - useful in a whole range of scenarios. From simple on/off overlays for timecode or feet and frames to timed overlays for streamers, markers and flutters. Timed overlays can be programmed directly within Video Slave, but also triggered directly from your DAW or other MIDI-compatible equipment such as a keyboard or trigger pads.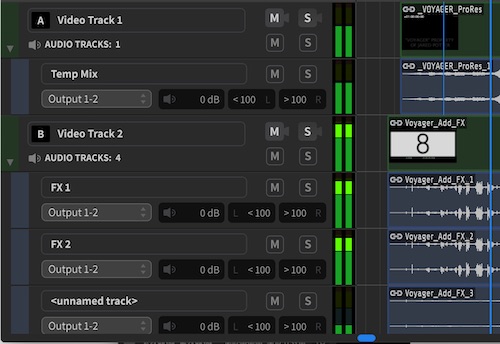 Professional audio capabilities
Video Slave will playback all audio tracks a movie contains with up to 8 channels per track. Additionally, you can create audio tracks and drag audio files to them the same way you can in your DAW. Video Slave will draw audio waveforms and offer all audio-related features you are used to on your workstation such as flexible output routing and standard audio controls such as solo, mute, volume and pan on an individual track basis.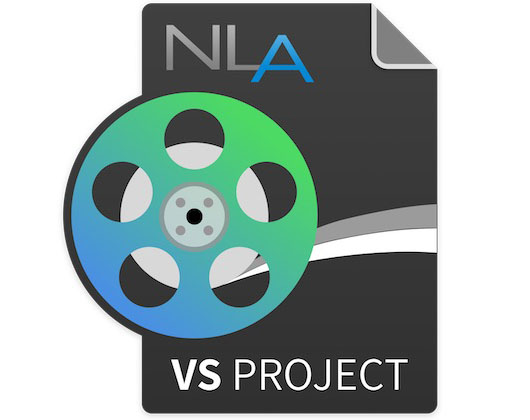 Ease your workflow with timelines
No matter if you're working on a reel-based feature film, commercials or a whole season of a TV or web series, Video Slave's timeline feature has you covered!
A project in Video Slave can contain several timelines and each timeline can hold several video and audio tracks. Use one movie per timeline or all reels of a film, use several video tracks in one timeline or only one and instead use separate timelines - whatever aids your workflow. Edit video and audio regions to easily insert a rendered scene or have one timeline for a reel-wise and another for a tied version of the same film for presentation purposes - all in the same project and with minimal effort.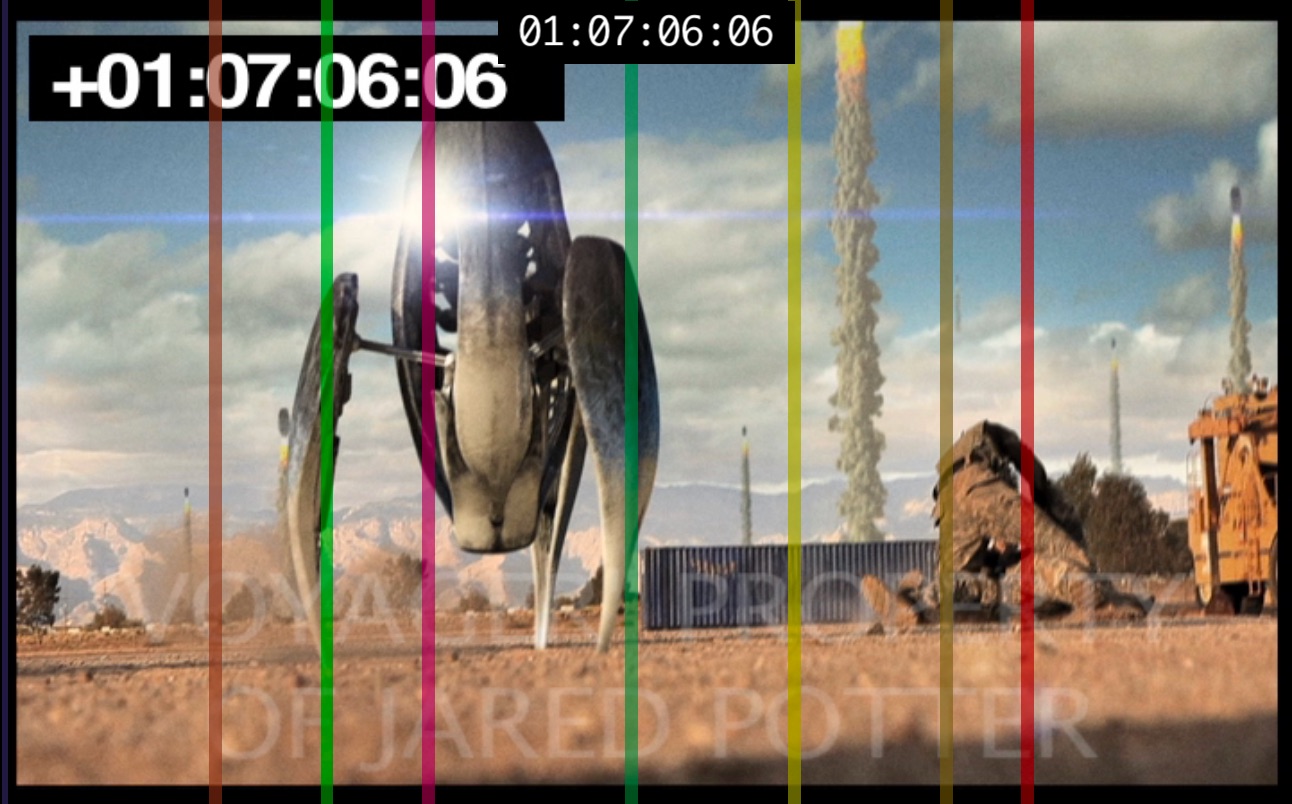 Plays nice with others
Video Slave 4 works well with other software solutions such as The Cargo Cult's Spanner 3. The integration allows users to display pan positions from Spanner directly in Video Slave. 
We will be adding more integrations with other software solutions very soon! 
See a full list of features and system requirements
Hide feature list
Video Slave 4 Standard
Video Slave 4 Pro
Movie playback
Synchronized movie playback with scrubbing support using MTC and MMC
•
•
Support for all of the most common codecs and containers
•
•
Support for movies in the MXF container (Op1A and OpAtom)
•
•
Projects with timelines
•
•
Flexible movie export to H.264 and Pro Res
•
•
Video Device Support
Blackmagic Device Support with output resolutions up to Full HD
•
•
Blackmagic/AJA Device Support with output resolutions up to 4K
•
•
Video reference/genlock support
•
•
Syphon Framework Support
•
•
Overlays / Visual Events
Timecode overlay
•
•
Streamer, Marker, Flutter events
•
•
Visual event import (CSV, ADR Studio XML, SRT/STL)
•
•
System Requirements
Supported OS
Mac OS X 10.10 and later
Minimum Requirements
Intel Mac with 4 GB RAM, HDD, 512 MB VRAM
Intel Mac with 4 GB RAM, HDD, 512 MB VRAM
Recommended Requirements
Intel Mac with 8 GB RAM, SSD, 1 GB VRAM
Intel Mac with 8 GB RAM, SSD, 1 GB VRAM
Get started quickly!
Purchase options
SUBSCRIPTION LICENSE
per month
PERPETUAL LICENSE
one time purchase
One Year, Paid Monthly plan
with a one year contract
Service begins as soon as your initial payment is processed. You'll be charged the rate stated at the time of purchase, plus applicable taxes (such as value added tax when the stated rate doesn't include VAT), every month for the duration of your annual contract.
Your contract will renew automatically, on your annual renewal date, until you cancel. The contract can be cancelled any time by logging into our website. However, it will only take effect at the end of the subscription year. Renewal rates are subject to change, but we'll always notify you beforehand.
Video Slave needs to refresh the license once at the end of each month. For this, a working internet connection is required. If no internet connection is available, Video Slave will return to demo mode.
By clicking the accept button you agree to the billing terms above.
Download your fully functional demo* of Video Slave TODAY
* Demo software is video watermarked and runs for 14 days.
Download Video Slave
We would love to stay in touch!
Please take a moment to signup for our newsletter.*
* Signup is optional and not required for downloading the software.