Video Slave 3.3 released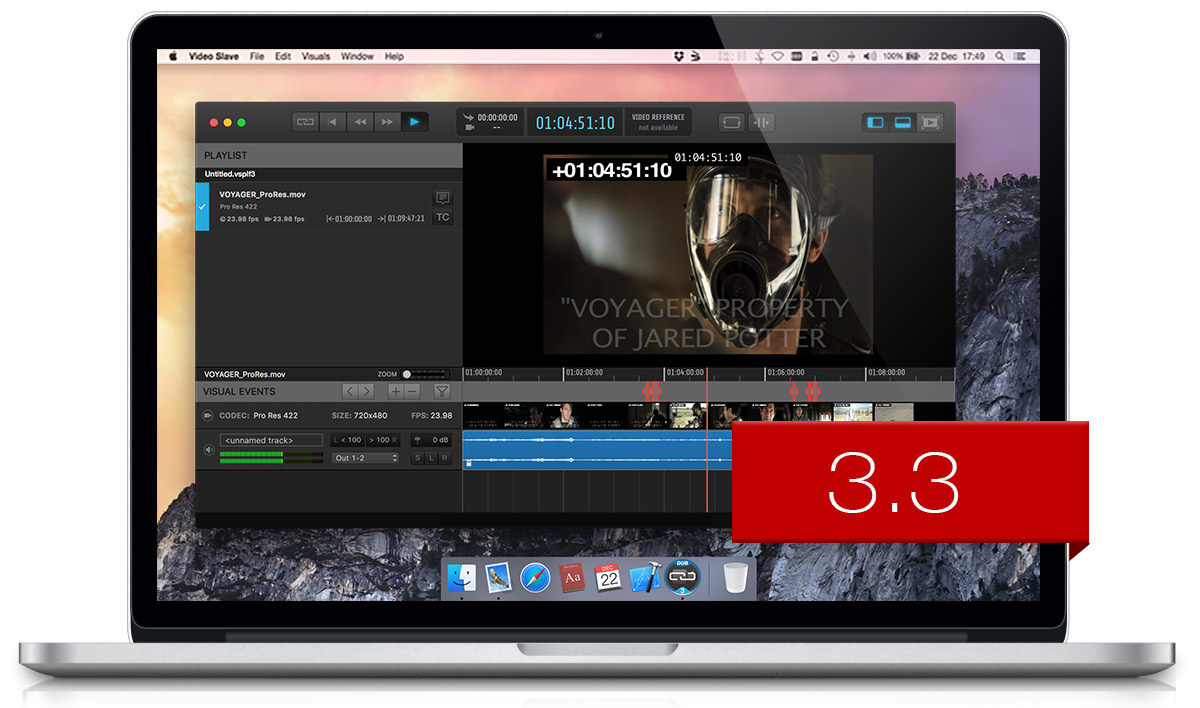 We have just released Video Slave 3.3 containing some great new features as well as bug fixes and other improvements. This new version is a recommended update and is free for all Video Slave users. Please use the "Check for updates" functionality directly from the Video Slave menu or download the file directly from  www.video-slave.com.
As we think that this update is a big step for Video Slave, we will be offering 20% discount until 15th July 2017. Just use the coupon code "VS3SPANNER" on checkout.
Partner Integration
Over the coming months Non-Lethal Applications will be working with other developers to integrate their products into Video Slave 3. The first developer to join the platform is The Cargo Cult with Spanner 3, the surround panner software. Integration now offers owners of both Spanner and Video Slave 3 a visual indication of the pan states in Spanner 3. It helps to give users a visual representation of the pan moves, so for example if someone is walking across a scene a visual pan state can indicate that it is following the actor by showing this as an overlay during the scene. This offers more precise pan automation settings for those mixing to picture.
New developers will be announced as soon as more details are confirmed.
Pro Tools Session Info as Text import
With the release of Video Slave 3.3, you can now import cue information from region groups within Pro Tools sessions. Please check our knowledge base for more information about the track and region naming conventions.
New Features In Video Slave 3.3
Added support for audio only export from movies in either WAV or M4A formats
Added stereo mixdown functionality when exporting clips
Added support for The Cargo Cult's Spanner. See setup instructions in our knowledge base.
Added import Pro Tools Session Info text files feature. Video Slave can extract character/char prefix/actor/text. Please see our knowledge base for more information on the notation used.
You can now also trigger Flutter events through MIDI
When exporting a movie from Video Slave, the audio track volume settings are now respected properly
Video Slave now displays all attached Blackmagic/AJA devices and lets you choose which one to use instead of only displaying the first ones
Bug Fixes
Fixed OpenGL related crashes 
CSV export fixes
Performance improvements when dubbing including fixes for a stall
Better "editability" of character names in Playlist Settings window, made sure there cannot be duplicate character names
Fixed a bug where VS wouldn't display the selected character in the dropdown menu if it was the last in the list
Fixed a bug with wrong relations when selecting actors for cues in the event list or DAW settings window
Fixed bug causing noise when exporting audio tracks not starting at clip start
Fixed bug when importing CSV with double line feeds
Fixed a bug causing a crash when exporting movies
Improvements for looping in Video Slave