To cue and record dialogue with Pro Tools, a few things need to be setup. In particular, these are:
Timing synchronization

MIDI Timecode (MTC) and MIDI Machine Control (MMC) or
DAWLink

Accessibility
HUI (optional)
Timing synchronization
MIDI Timecode and MIDI Machine Control
To work with ADR Master in conjunction with Pro Tools it is vital to setup both applications for synchronized playback first. For years Video Slave and ADR Master has relied on MIDI Timecode (MTC) and MIDI Machine Control (MMC) whereas MTC is used for synchronized playback and MMC is used for locating while not playing and scrubbing.
Let's start by opening the ADR Master preferences and selecting the "General" tab (if it isn't already shown).

We recommend using the virtual ports ADR Master creates automatically for MTC and MMC as they don't require any additional setup steps. Just make sure "ADR Master MTC In (virtual)" and "ADR Master MMC In (virtual)" are selected in the dropdown menus.
We prepared a separate article to give you more information about setting up MTC/MMC (and HUI) with your DAW. Using the peripherals setting in Pro Tools described in this article, set the Pro Tools MTC Generator port to "ADR Master MTC In (virtual)" and the MIDI Machine Control Master send to "ADR Master MMC In (virtual)" respectively.
DAWLink
Not too long ago we have released a new tool called DAWLink used to connect Pro Tools with ADR Master to synchronize playback as well as scrubbing. You are of course free to use DAWLink instead of MTC/MMC also when cueing and recording ADR. We also have a separate setup article on how to setup Pro Tools with DAWLink here.
If you're having problems getting the synchronized playback to work, please have a look at the article Getting Started with Video Slave 4 which has more detailed instructions on the synchronized playback part. The setup is identical for ADR Master.
Once your DAW is setup and ADR Master is configured correctly, you're almost done. You should now see the incoming timecode and the timecode rate in the "Incoming TC" section of the General preferences changing when you hit play or scrub within your DAW. You can now add media to your project and drag it to the timeline.
Now you only need to tell ADR Master to follow external sync by clicking the sync button.

Accessibility API setup
Lastly, ADR Master needs to be set as a trusted application in the macOS Accessibility System Preferences. Using this interface, ADR Master can control more properties of the tracks in your Pro Tools session e.g the track input states and track names among other things. When ADR Master is launched and the DAW Control is enabled (switch to the "DAW" tab in the tab view at the top left of the main window and make sure to enable it if it isn't), a window will appear asking you to allow ADR Master as a trusted application in the System Preferences. When you click the button in the window, you will be taken to the correct settings page (Security and Privacy -> Privacy tab -> Accessibility).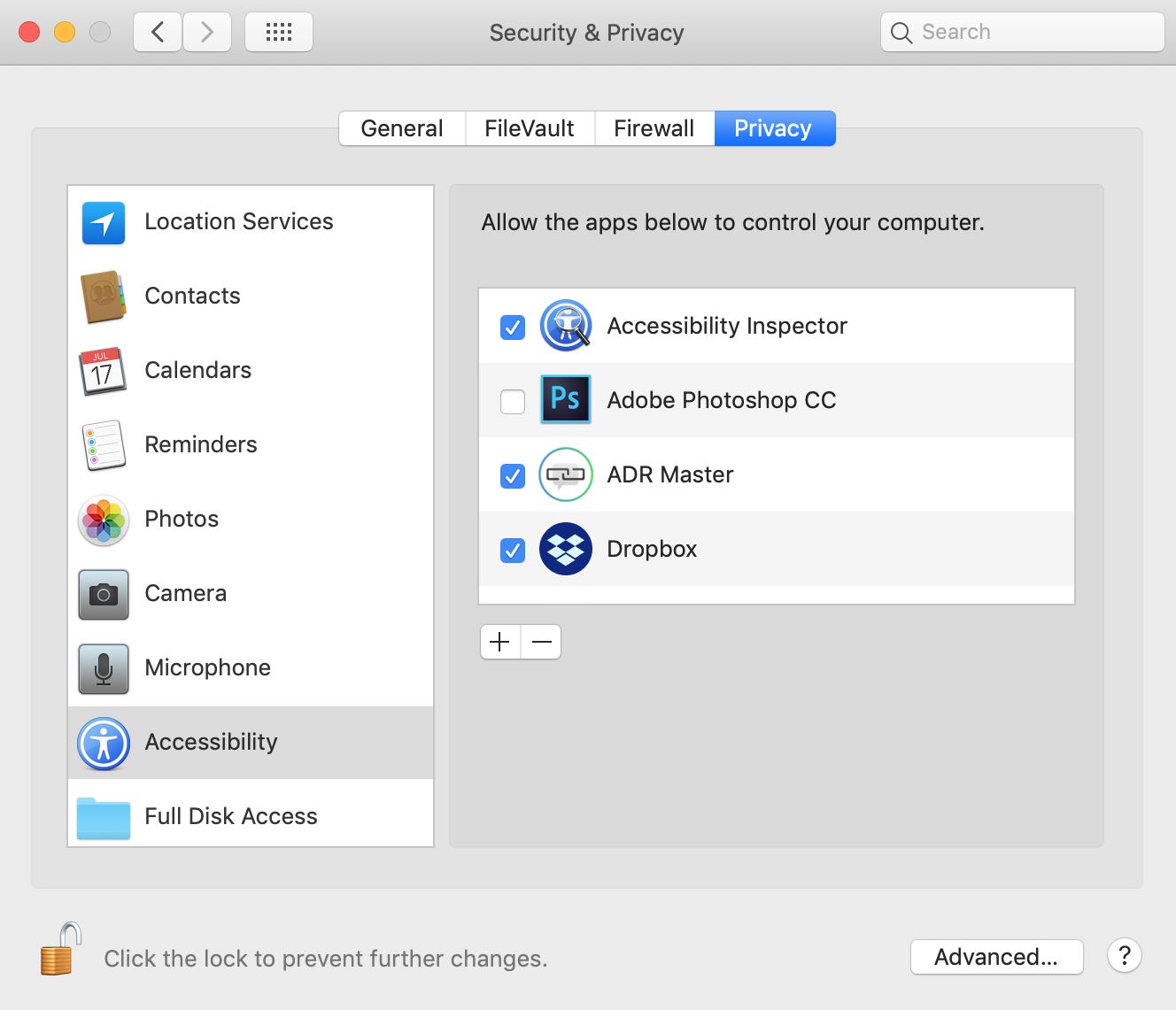 Click the lock icon at the bottom left and enter your password. Then select ADR Master in the list and set the checkbox.
Finally, restart ADR Master and you're done. You're all set to use ADR Master and start creating cues or importing them.