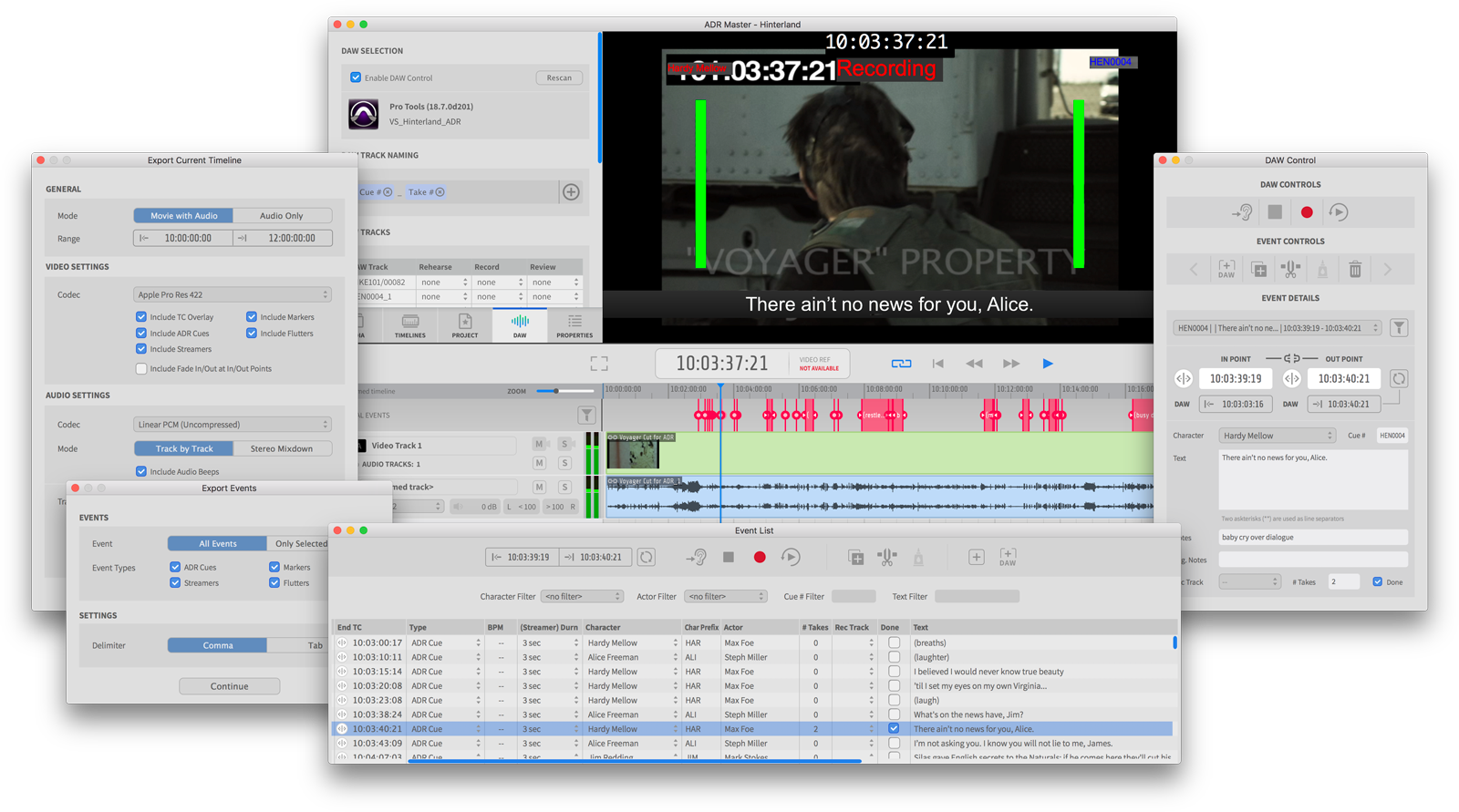 Today, we are proud to announce the official release of ADR Master!
ADR Master is the new ADR cueing and recording solution from Non-Lethal Applications. It includes all the features Video Slave 4 Pro offers but adds vital tools for cueing and recording ADR. ADR Master comes in two versions: ADR Master Editor and ADR Master Studio.
ADR Master Editor
ADR Master Editor is Non-Lethal Applications' state-of-the-art ADR cueing solution which includes all the features of Video Slave 4 plus; Import cues from a number of supported file formats or grab them directly from your DAW and when you're done cueing export or print them or send them to Pro Tools as region groups.
ADR Master Studio
All features of Video Slave 4 and ADR Master Editor plus; ADR Master Studio contains all the tools you need to record dialog in Pro Tools. It adds recording features like track naming and a sophisticated track mute/input/record matrix that lets you define what you want to hear at all times. In combination with the support for two Blackmagic or AJA devices with configurable output per device it makes it the perfect solution for all ADR recording studios.
Version Independent New Features:
Video Slave/ADR Master has been rewritten from the ground up to clear the way for future Windows releases.
Video Slave/ADR Master now use PACE (machine or iLok 2/3) for perpetual licenses allowing users to take licenses with them from studio to studio.
Moved from a playlist-based to a timeline-based approach. This is clearly the biggest and most important change and it required surgery at the very heart of the application which now allows for editing with a high degree of flexibility.
Central project Media Bin to keep track of the files
Multiple timelines per project
Multiple video and audio tracks per timeline
Several use cases. Examples;
reel-based feature film
one timeline with all the reels at the respective hours
one timeline with tied reels for presentation
Improved Blackmagic and AJA performance
What professionals are saying…
"The new media bay is a big upgrade from VS3, I can have all my assets in one place to access very quickly. It's a big time saver. Spotting and trimming my clips in the timeline is now easier than ever. Plus, having multiple timelines in the same project is perfect for keeping older versions of the cut around to reference. Using streamers while composing has been amazing! You have a clear reference to moments you want to sync to in the picture. It allows you you hit things even off the grid while playing parts in live."
Tim Jones - Marvel's Thor:Ragnarok and Lego Ninjago
"I've been a big fan of Video Slave for several years now. VS3 was a great upgrade from previous releases, but Video Slave 4 really ups the game with its new timeline feature. Now I can see where each of my video files from the Media bin are located as it relates to the project's timeline. It's really a game changer for me and my workflow."
Ron Aston - Emmy Award and MPSE Golden Reel Award Winning sound effects editor and sound designer.
"With Video Slave 4, it's clear that Non-Lethal Applications is dedicated to finding new ways of making life easier for composers and sound designers. The new features have elevated Video Slave from a must have peripheral tool to at this point being an extension of my Digital Audio Workstation. Whether I'm scoring in Cubase, editing in Pro Tools, or spotting the film with a director, Video Slave is always up and running."
Christopher Doucet, Strawberry Sounds
For more information visit http://www.adr-master.com.

We offer free upgrades to all customers who bought Video Slave 3 licenses within the last 60 days. To all other customers, we offer perpetual license upgrades starting at 499$.
In case you have any questions, please don't hesitate to contact us directly at info@non-lethal-applications.com.